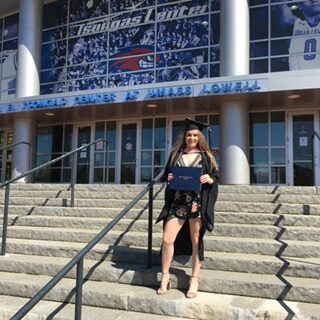 Tiana Jurisic: UMASS Lowell '21, Masters of Public Health - Social & Behavioral Sciences Bridgewater State University '19, BS Criminal Justice & BA Political Science- International Relations; Anthropology Minor
The value of ACE was being exposed to education, and career readiness skills way before you would have been on a traditional college/career path. The biggest takeaway from the program was the day we did cover letters as an assignment. As an 18-year-old fresh out of high school, I did not understand why I had to do something that I would not need for at least another three years, but I am so glad I got the experience and advice because I use that template every day now when I apply for jobs. ACE met my expectations. I was ahead of the group in terms of career readiness because I was already exposed to resume and cover letter writing, time management skills, and tips on balancing a healthy lifestyle while in college.
I utilized the four ACE pillars, Self-Direct, Self-Manage, Self-Advocate, and Self-Correct, throughout my undergraduate and graduate experiences. I used the self-direct & self-manage pillars when picking classes and creating my schedule. As an ACE Teachers Assistant, I stressed these two pillars the most to students because you need to know yourself. I cannot stress how many of my peers would pick 8:00 am classes to "get them over with" even though they were not morning people and stayed up late.
College is not high school where from 8:00 am to 2:30 pm you are expected to be in school; instead, you are given the freedom to pick classes anywhere from 8 am until 8 pm or online, so use that to your advantage. I took 8:00 am classes in my first semester because we all have that "I did this for 12 years" mentality, but I realized it just was not for me. I like to get up at 8:00 am, work out, and eat breakfast before class, so I had classes that started at 9:45 am or 10:00 am. And even though they got out later, I still could enjoy my evenings.
Being self-directed and being realistic is essential to overall success. I am a very persistent person, and self-advocacy is the most critical life skill you can have regardless of your career path after high school. When the registration period begins, and you need to be cleared, no advisor will chase after you to remind you. Depending on the size of your school, advisors may have a hundred students or more to advise. The advising period is two weeks long, so realistically, most advisors will have you come with a class list and approve it so you can register. You need to know what classes to take to graduate and how to get waivers for others. When I was studying abroad in England for a whole year, I was constantly emailing the school to help me with immigration forms, residency requirements, and university-related paperwork. They would take weeks to respond unless you were persistent and followed up every other day. Being aware of what you need to do and how to get it done is important in the long run for career success.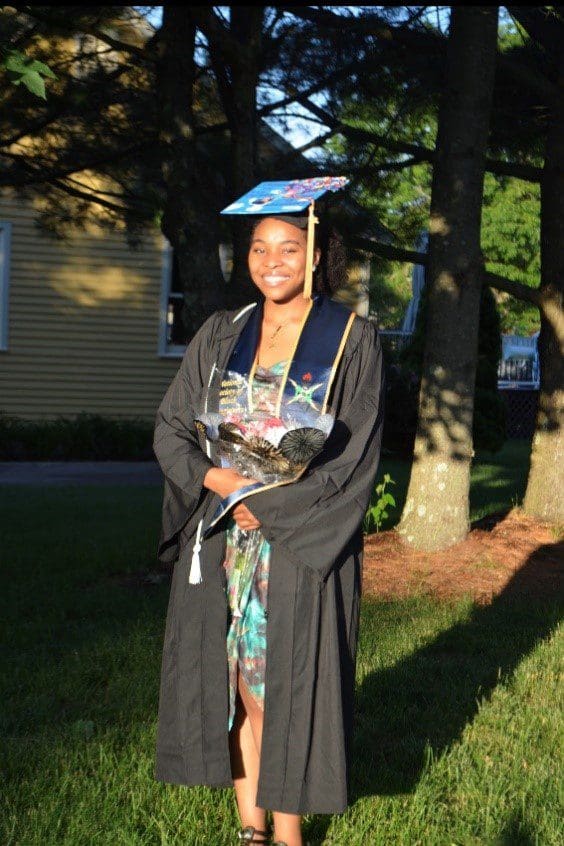 Adanna Aniagboso, UMASS Dartmouth, '21, Nursing Major with Business Administration Minor
I want to start by stating that the MGH Youth Scholars Program has been a valuable asset in my life. The MGH Youth Scholars program has guided me through the journey of high school, college, and even now as a graduate heading towards my future career. The faculty members are eager to provide resources, whether financial, educational, career-wise, or any other helpful resources that further enable the success of its youth scholar. I believe that having an ACE coach benefitted me during my years at college, and this is due to my coach and I creating plans that would help me stay on track on what I needed to accomplish during the week, month, and year of the semester. A college is a place of independence, and it tests your ability to balance a variety of factors that could knock you over if you're not fully equipped with the right skill sets. An ACE coach becomes your accountability partner who assists you in creating maps and goals that can direct you to the places you want to reach successfully throughout your college years.
Starting with the first pillar of self-directing, I utilized this pillar when studying for my exams. I would set the goal of fully understanding content by a specific date and working towards this goal by breaking up the content into pieces, watching content video explanations, and asking professors for assistance if I didn't understand the content. The next pillar of self-managing was challenging at times because I was working part-time on campus. To excel in my studies, I constantly had to readjust my schedule to dedicate more time to my studies. The third pillar of self-correcting taught me how to get back up when times seemed challenging.
An example would be when I didn't do as well as I wanted to in one of my exams. After I received the results, I scheduled a test review with my professor, and after that review session, I included the feedback that my professor gave me, and I performed well on the next exam. The last pillar of self-advocate is a pillar that I practice constantly whether in school, clinicals, work, or generally in life. I believe that self-advocating opens so many doors of opportunities that would be closed if you didn't speak up. All in all, the four pillars have been applicable, motivating, and essential to my college experience.
I would recommend the MGH Youth Scholars program and ACE to others as they provide a plethora of opportunities to learn from and understand where you see your future self. I have grown into the woman I am today because of the supportive nature and environment of the program. Everyone in this program is like family to me, and I am grateful for being a part of such an excellent program.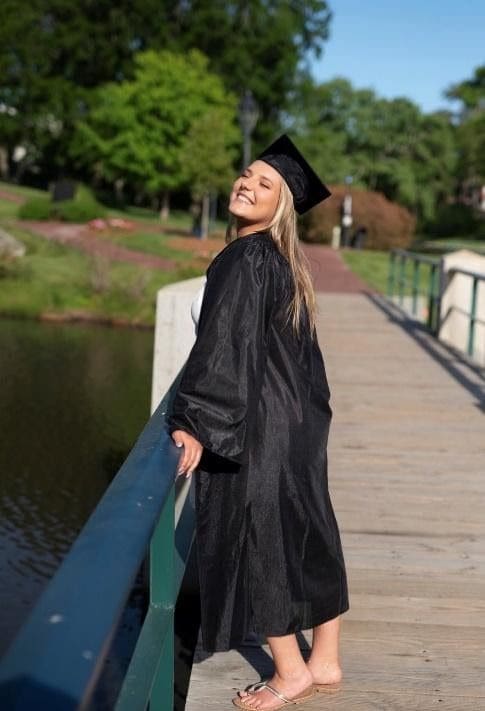 Mia Gaudino, Endicott College, '21, Psychology Major with Business Administration Minor
When reflecting on my college experience, I can say it was not an easy path to graduation. Whether that was freaking out each semester when it came time to pick classes or convincing myself that my calling was to be a nurse only to change my mind hours later, I can say without a doubt that my ACE coach Mia, was there supporting me through it all. Through our coaching calls, I learned to self-manage, self-advocate, self-direct, and self-correct no matter the situation. Most recently, I was able to advocate for myself during my semester-long internship. Having my ACE coach there to remind me of the four pillars helped me stay motivated and focused.
Having someone to reflect with regularly was one of the most beneficial resources I had during college. I even found myself relaying the skills and advice that I learned from my ACE coach to my friends who often told me that they wish they were a part of a program that supports them like MGH Youth Scholars supports their students. I am so grateful to have had the opportunity to get to know Mia over these past four years, as she has become a mentor and role model that I highly respect. I would recommend this program to others because it has helped me recognize my strengths as I enter the workforce, and it has given me the confidence to be a strong professional woman.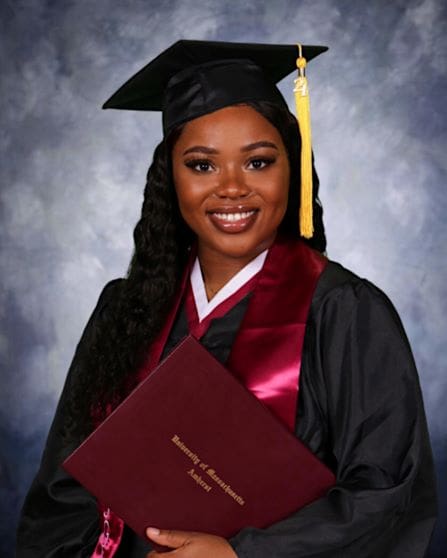 Chinonye Onochie, UMASS Amherst '21, Double Major: Political Science & Theater
My experience with the Ace program was rocky yet very necessary. I started off having to take the summer course twice because I didn't show enough initiative and I'm very grateful for having done so because I got paired with an amazing Ace coach. In my college career, my adjustment to the new freedom derailed my studies. If not for the constant coaching calls and the plans I made with my Ace coach I would not have made it as far as I did. I went from having too much fun and lacking in my studies to becoming a student leader with good grades finally. Now I am a graduate with a master's program ahead of me. My experience may not be like others but it's a lesson on the importance of community and the bonds that hold us up. Thank you Lorita for being an amazing Ace coach.
Zak Attioui, UMass Lowell '21, B.S. Civil Engineering and English
College can be a daunting time in a student's life, but that's where the ACE program comes in. They will hold an undergraduate's hand throughout the college experience — assisting them through their journey. Being part of this program, I had the honor of having Lorita as my coach. She has worked diligently to ensure that I reached my college goal — graduate with a 3.2 GPA. Throughout my five years, I had many roadblocks, like many students, but Lorita was always there, beside me, guiding me around roadblocks and pointing out that the road continues — so that I won't drop out.
I can write a book on all the beneficial aspects that resulted from being part of the ACE program. Limited by words, I will mention a few: very flexible on picking out the time for coaching calls, provided solutions to any problem I faced at school, tracked my grades so that I reached my desired GPA, and provided help on a personal level which was the icing on the cake. Not only did my ACE Coach make sure I succeeded, but she also made sure I enjoyed the journey. ACE is an essential program for every college student as it will lighten their load.
Katherine Henriquez, LaSalle University '21, Major: Psychology
Having an ACE Coach is one of the main reasons I was able to succeed in college. As an immigrant and as a first-generation college student, having someone to mentor me in a process that was completely new and foreign was very rewarding. Through my 4 years in college, I knew I had a coach that was holding me accountable and coaching me to improve my work and skills. In my case, accountability motivates me to do better and I always wanted to give good news to my ACE Coach when we spoke, that made me stay on track with all my classes.
When I first started college, I considered myself to be shy, reserved, and I did not like to ask for help because "I didn't want to bother anyone." It was my ACE Coach who helped me develop my self-advocacy and self-direct skills.
I have now graduated from college and I work as a community organizer advocating for my community. I found my voice, my passion, and myself through the encouragement and the coaching that I received from my ACE Coach. I will be eternally grateful to ACE and my ACE Coach for the skills you helped me develop.
Halima Hassan, Salem State University '21, Biology with Chemistry Minor
ACE, at first, I didn't even know what that mean but over the summer I learned more about becoming my own person and speaking up about what I believe. I learned how to self-advocate and self-manage my time even with a baby. I was able to self-correct and make better changes where necessary. ACE was really helpful and I am grateful that I was a part of such a great program.
Dorene Kyando, Liberty University 21' Major: Psychology
Being that I am a first-generation college student, having Ace by my side guiding me and checking in on me was essential to my success throughout the four years of my college experience. My Ace coach would give me corrections when I needed it, they would remind me that I need to take initiative with my learning such as going to office hours, and they would help me draft practical strategies and plans in order to achieve the results (such as grades) that I wanted to achieve. With the Ace program by my side, I felt guided, advised, and felt as though that I'm not walking through college by myself. It was comforting to know that I have a supportive system.
AMBER WADE - Parent
"Thank you for allowing Ashley the opportunity to be in your program. She really enjoyed learning different things. She also enjoyed being in Boston. This program gave her the opportunity to connect with other young people who will be starting college life this fall. She informed me that she gained a lot of knowledge that she will be able to take with her. She also learned new study habits. I am glad that she was able to attend. Thanks to everyone that made this program and opportunity available for her. I hope other young people can have the same experience."
FAYRE CROSSLEY - Parent
"College is the New World. And even brilliant and talented young people need a bit of navigation. I think of Lorita just that way, as a compass for my children, steadily supporting them in their chosen directions. Their Accelerated College Experiences with Lorita gave my children incredible confidence. I know that sharing my thoughts and fears with Lorita helped me become focused and prepared. As a result, we became stronger, but we also had a new support network whenever we needed one. I am thankful; "ACE's transition tools and personal relationships have made a very positive difference in all our lives."
AUDRA BOHANNON
"The movement from high school to college is a big one. You go from dependence to independence. You make all your decisions - which classes to take, when to study, when to hang out, when you utilize your resources when to go it alone. Each decision can support or interfere with the student being able to get the most out the college experience. Ms. Williams' ACE process enables the student to make good decisions, manage their time and focus on what is necessary to get the most out the college experience."
A.M.B.
"Powerful, effective, engaging session! Students walk away with a plan, a level of clarity about what it takes to be successful student in college, and the requirements they need to meet in order to achieve at the highest level. ACE gets them ready!"
"Always remember the reasons why you're in college. If you cannot remember open your book to chapter 3"
NEPHTHALIE ANTOINE
"When in doubt get the ACE book out, it will help."
JENNY
"College Life, Independence, Self Awareness."
ACE (IESHA)
"Motivation from people brings you a long way but they teach you to get motivation from yourself which takes you farther"
BIANCA PRATO
"When you work hard you gain a sense of accomplishment."
KAROLYN MORI
"Don't leave this ACE book at home if you are living on campus."
ELIZABETH
"Want a smooth journey in college and beyond? Pull out your ACE book!"
CIDJY BOSSUET
"The ACE program exceeded my expectations"
STEPHANIE URVAZ