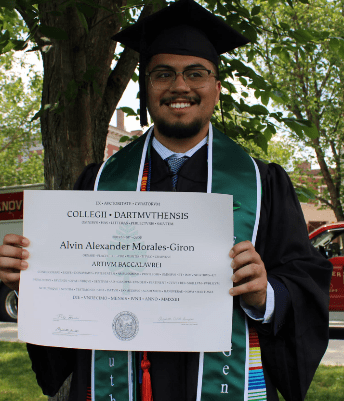 Rebounding from a Setback to a Comeback
September 10, 2023
|
|
Blog
Ms. Alper was her name—the middle school science teacher who gave me the foundation and love for science. I don't know what it was, her passion, her energy. But then, I started taking school more seriously, mainly because it was getting fun and exciting.
High school was a great experience. Meeting people outside the East Boston neighborhood was a culture shock, but I'm glad it happened. I've met my closest friends, and it also provided a great learning environment. I was valedictorian for the class of 2019. It was no easy task, as I had a friendly rivalry with my best friend. I was confident academically and could not wait for college to start. But Dartmouth College humbled me devastatingly.
It was my first term at Dartmouth that affected me the most. I wasn't used to the highly fast-paced academia and rigor that Dartmouth offers. Each course was ten weeks. It was book after book, subject after subject, essay after essay, and exams after exams. Before I knew it, I was way behind and missing weeks of coursework. Long story short, I ended the first semester below a 1.0 CUM GPA. My confidence was shattered, but I told everybody I was fine except for Suhaily Penix, my ACE Coach.
This trend continued through the spring term of my first year. Then, the pandemic started, and I had to withdraw from my cell biology course, a pass/fail course. I was at rock bottom at this point. I had failed a pass/fail course. I started questioning if I was even smart enough for Dartmouth, smart enough to pursue being a doctor, or to be in STEM classes at all. I didn't have the courage to tell Suhaily – or anybody – after the dismal spring semester, but Suhaily always knew when something was wrong, and I could never hold back when she asked what was wrong. After I told Suhaily, we discussed getting a neurological exam because of my attention deficit tendencies. I had a tremendous struggle staying on task and paying attention in class. I even got sidetracked when having a conversation with someone. Once I found out I had ADHD, it cleared up many doubts I had about myself.
Suhaily and I devised a plan using the four ACE Pillars as a foundation. For the pillar of self-direct, I made it a goal to go to all professors' office hours and T.A. hours. This also included setting a realistic GPA, keeping a growth mindset, and exploring study strategies to find out what fits me. For the pillar of self-management, I decided to go to more quiet places to study since I got too distracted in livelier settings. For the pillar of self-correct, I planned to reach out to professors and my advisor when things started getting tough and not wait until the end of the term when I was weeks behind. For the pillar of self-advocate, I planned to be more assertive in my priorities, focus more on my studies, participate less in social events, and attend after I had completed my "to-dos" for the day. Following these pillars throughout this period was one of the most significant challenges I had to overcome.
I was not used to this, but I had to do it. As a first-generation student, it was a dream of mine – and my parents – to graduate, so I battled on. I fell so many times but got up just as many. I started seeing this upward trend in my academics. I also made friends dedicated to their studies – serving as great influences on me. It was a great feeling once I began to balance my life's social and academic aspects. The overwhelming reward and achievements was graduating with a 3.15 CUM GPA and regaining my confidence. I didn't give up, and I have many people to thank for that. It shows that you can come back stronger when you get knocked down. I am proof of that.
I want to thank Suhaily for always being there for me, even in my worst times. She was someone who really believed in me and wanted the best for me. Thank you for your guidance and patience these past four years. I sincerely appreciate you helping me integrate the four pillars. I am very grateful to have had you as my ACE Coach.
Subscribe to Our Newsletter