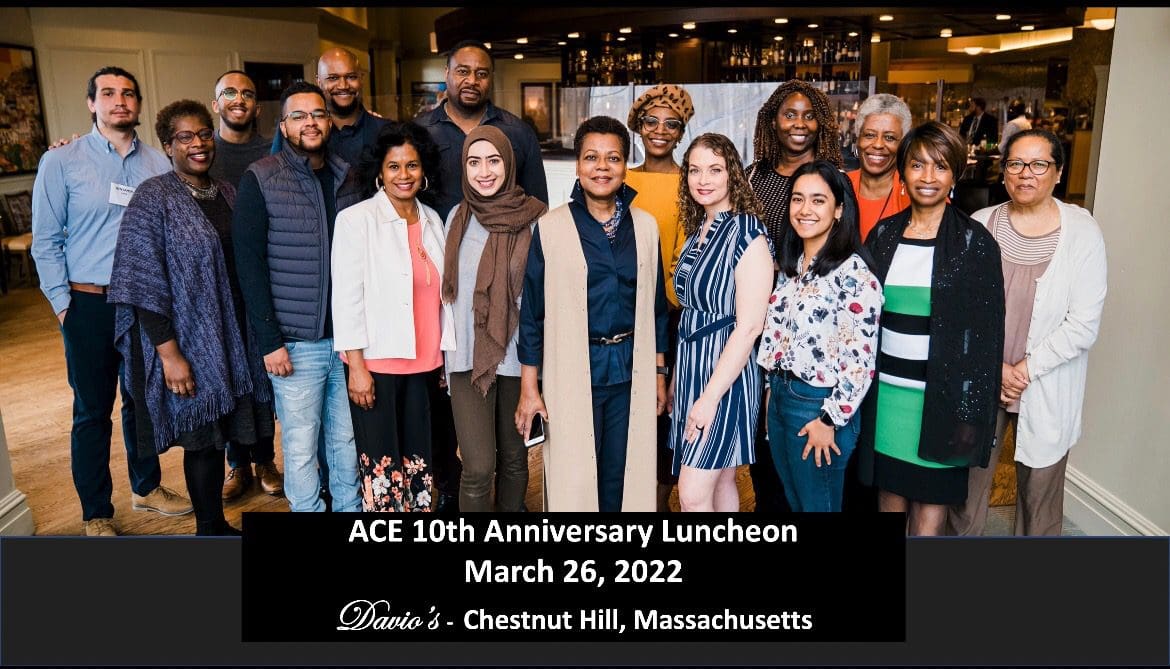 Celebrating ACE's 10th Anniversary
ACE's Ten-Year Celebration
On March 26, 2022, ACE (Accelerated College Experiences) celebrated its tenth anniversary by honoring two team members, Sherryann Sylvestre, our Curriculum Designer and Senior ACE Coach, and Derek Washington, Senior ACE Coach and trainer. Sherryann and Derek have been with ACE from the beginning. The celebration included remarks from ACE alumni returning with a surprise visit to their coaches as well as a reception for board members, partners, ACE Coaches, and other members of our support network.
Along the ten-year journey, over 350 students have participated in ACE Programs. Recently, we completed our seventh graduating class! More than 115 ACE graduates have completed their studies at various colleges across the country. Of those who graduated, 80% did so with a 3.0 CUM grade point average (GPA) or higher – the gold standard for ACE graduates and the heart of our mission.
Looking back, it is hard to believe so many years have passed since we started this program together. What began as a vision has evolved from our signature Onboarding Program with its unique coaching methodology, to six programs that serve and support parents and students attending colleges across the country and internationally.
As we all know, it takes a village to create a platform for students to excel. A special thank you to those who have partnered with us over the years; MGH, Revere Cares, Wheelock College, Boston Public Health Commission, and Northeastern University's Honors Program.
With one decade behind us now, we are excited about where the next decade will take us. One goal is to share our unique coaching methodology with others so that we can expand our footprint and serve students nationwide.
Included are a video and photos highlighting the tenth-anniversary celebration. I hope you enjoy seeing our celebration's joy, warmth, and excitement.
For more information about our organization, please go to https://acecoaches.org/our-story/.
Enjoy!

Lorita B. Williams
Founder and CEO
Subscribe to Our Newsletter